Board Member Spotlight – Jasmine Beard
Jasmine Beard – President, Greensboro Jaycees
Jasmine is a Greensboro native and an alumnus of UNCG with degrees in International Affairs & Development and Spanish. She is the Chief Strategy Consultant for AJOY Consulting LLC. As President, she collaborates with the board to develop the strategic vision while establishing strategic and mutually beneficial community partnerships and empowers all members to enrich Greensboro by being servant leaders. Jasmine enjoys spending lots of time with her daughter as well as cooking, dancing, travel, serving her community, learning a new skill and doing business too help others grow.
Q&A with Jasmine
What made you join the Greensboro Jaycees?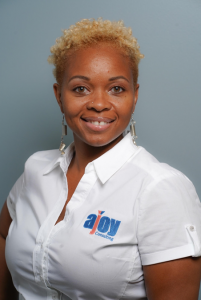 The opportunity to continue to lead projects that have a real impact in the community, to network with progressive individuals and to learn from other young professionals and their experiences.
What made you want to get involved with the board?
I enjoy being in a position of leadership and having the privilege to make decisions on behalf of the people that inspire and trust us to lead.
What's the biggest thing you're hoping to get out of being on the board?
Exchanging experience and knowledge that isn't taught in a textbook or on a typical job and creating lasting and mutually fruitful relationships.
Is there anything else you want to share about yourself or the Greensboro Jaycees?
I recently started my Strategy consulting business AJOY Consulting, LLC – and I have an event coming up on Wednesday February 20, 2019 – Networking: From Fearful to Fearce, teaching introverts or shy professionals my tried and true tactics for establishing genuine connections.
I'll also be celebrating my birthday with cake and hosting a listening session immediately after for my podcast interview with Lady Bizness aka Chisa Pennix-Brown.
Posted Under: News