Archer Elementary Teacher is GCS Employee of the Month
Feb. 17, 2021 – A second-grade teacher at Archer Elementary is making a big difference, not just for the students in her classroom but for the entire school.
Rebecca Torres was named the February Employee of the Month following a nomination from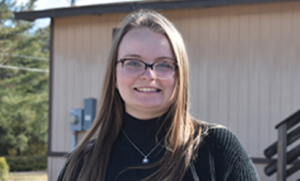 her principal, who praised her work both during remote learning and after returning to the classroom. This second-year teacher, who had worked with Canvas previously, volunteered to help her teammates who were new to the technology.
She also made the building a more welcoming place for when students returned, by writing and receiving a $6,500 grant to create an outdoor classroom space, which has been in use since students returned in the fall.
"Ms. Torres is always a beacon of positivity as she supports her students, families and amongst her peers," says principal Sophia Roberts in her nomination. "We are extremely blessed and fortunate that she is part of our staff!"
Torres received a $50 Visa gift card courtesy of Greensboro Jaycees, which is sponsoring the
Employee of the Month program. Her photo will hang at the district's central offices, at Archer Elementary and at the Greensboro Jaycees office.
Access full press release here.
Posted Under: News