NOW is the Time
09/16 @ 6:30 pm

-

9:00 pm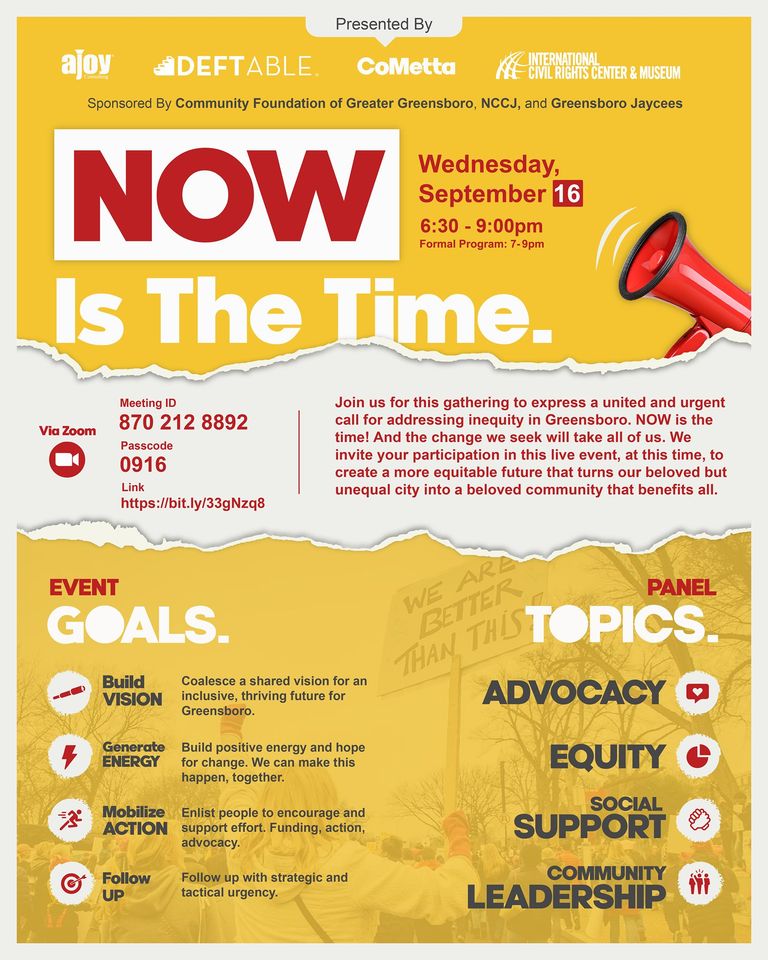 Join us on Wednesday 9/16/2020 6:30-9pm, for this gathering to express a united and urgent call for addressing inequity in Greensboro. NOW IS THE TIME! The change we seek will take ALL of our contributions. We invite your participation via Zoom in this live event at this time to create a more equitable future that turns our beloved but disparate city into a beloved community that benefits ALL.
Zoom Link: https://bit.ly/33gNzq8
This event is hosted in collaboration with Zitty Nxumalo- Founder, @Deftable, Lyndon Rego- Founder, @CoMetta GSO and @International Civil Rights Center and Museum. Our objective is to provide a platform for residential community leaders to have their voices heard by city leadership, potential funders and other Greensboro residents as an urgent call to action to drive change in creating the Greensboro that we the people want ourselves and families to live in.
The following four pillars serve as the basis for this event:
*Build Vision: Coalesce a shared vision for an inclusive, thriving future for Greensboro
*Generate Energy: Build positive energy and hope for change — we can make this happen, together
*Mobilize Action: Enlist people to engage and support effort — funding, action, advocacy
*Follow up with Strategic and Tactical Urgency
There will be four panel categories:
1.Advocacy
2.Equity
3.Social Support
4.Community Leadership
Enjoy live performances by Kamal Speaks, AJ/ FreeDope Major and Jonathan Timber