Business Success for Small Business Owners
10/12 @ 6:00 pm

-

7:30 pm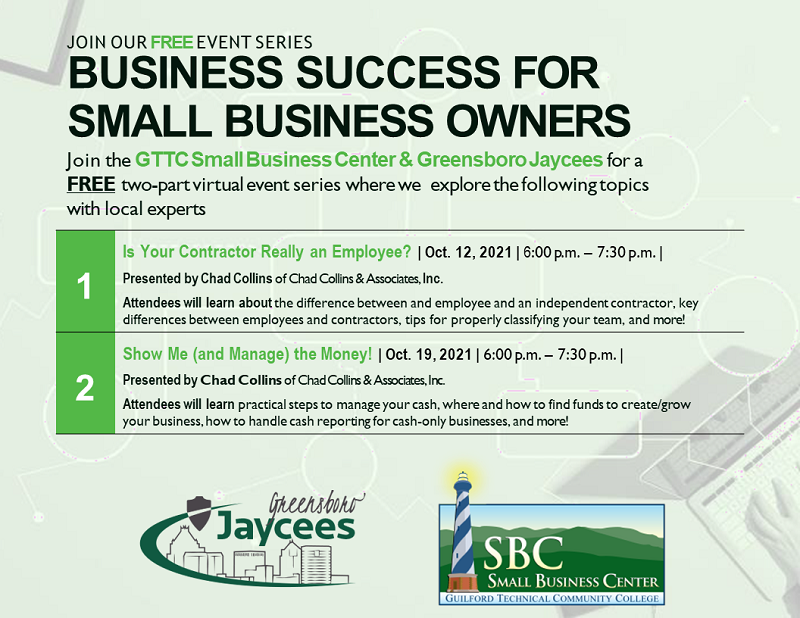 Is Your Contractor Really an Employee?
Maybe you've never thought about the difference between an employee and an independent contractor, or maybe you have thought about it often, but just can't decide which is which in your situation.
It is critical that business owners correctly determine whether the individuals providing services are employees or independent contractors. Making the wrong determination can have severe implications from both a legal standpoint and with the IRS.
For example, generally, you must withhold income taxes, withhold and pay Social Security and Medicare taxes, and pay unemployment tax on wages paid to an employee. You do not generally have to withhold or pay any taxes on payments to independent contractors.
This session will discuss key differences and help you feel more confident about classifying your team in the correct way.
Speaker(s): Chad Collins & Associates, Inc.
Co-Sponsor(s): Greensboro Jaycees
The Small Business Center is proud to partner with the Greensboro Jaycees to offer this important training. We are working to support their mission of Connecting the Greensboro Community and Developing its Young Adults with a focus on local entrepreneurs and business owners.
Fee: No Cost